Shopping Basket
Your Basket is Empty
There was an error with PayPal
Click here to try again
Thank you for your business!
You should receive an order confirmation from Paypal shortly.
Exit Shopping Basket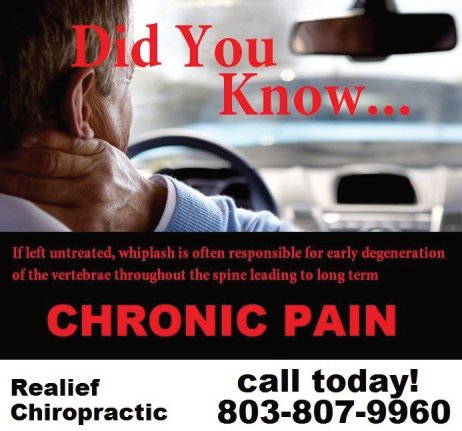 Chiropractors are one of the few primary health care providers who specialize in treating the musculoskeletal system. Just as a person consults with a cardiologist for concerns about their heart, many people seek care and advice from chiropractors regarding musculoskeletal injuries.
While whiplash injuries are not always immediately evident, they are actually considered one of the most common injuries sustained during car accidents. The strain that the forces causing whiplash injuries place on the spine are capable of causing damage to the muscles, ligaments, and nerves responsible for supporting your head and neck. If these seemingly minor injuries are not corrected they often produce a waterfall affect leading to multiple neurological and musculoskeletal symptoms and complications many years following the accident. In fact, it has been found that whiplash injuries are often responsible for early degeneration of the vertebrae throughout your spine and a multitude of symptoms such as pain and headaches. Since automobile injuries can involve many systems throughout the body, finding a doctor who is able to address each area is important.  At Realief Chiropractic we focus on automobile accident recovery.  Don't hesitate.  Call us today to schedule: 803-807-9960
FAQs about Post Accident Chiropractic Treatment:
Q. Do I need to have a lawyer first?
A. No, a diagnosis can be forwarded later.  If you do not have a lawyer we can recommend one. 
Q. Will the other driver pay for the treatment?
A.  The at-fault driver will usually pay for the treatment. 
Q. Will I need to see another kind of doctor too?
A. It depends on the nature of your injuries. 
Q. Do I need a referral to see a Chiropractor?
A. No.  Chiropractors are primary care physicians. 
Q. Does chiropractic treatment hurt?
A. Chiropractic treatment is very comfortable.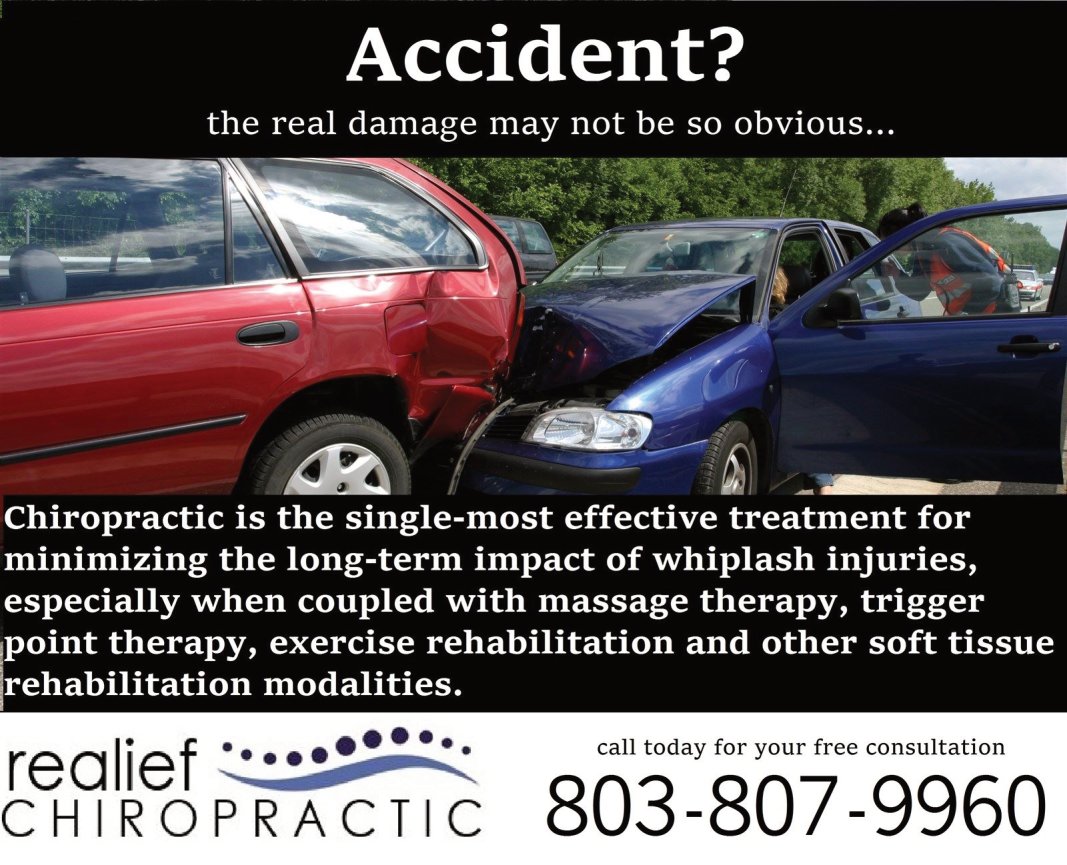 Chiropractic is the single-most effective treatment for minimizing the long-term impact of whiplash injuries, especially when coupled with massage therapy, trigger point therapy, exercise rehabilitation and other soft tissue rehabilitation modalities.  If you or someone you love has been in an accident call us today for a free consultation. 803-807-9960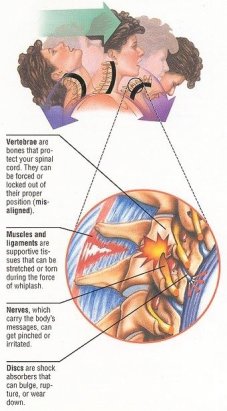 Studies have proven serious whiplash injuries from rear end collisions occur at speeds as low as 5 mph and only slightly faster in frontal collisions.  

55% of whiplash victims not treated by Chiropractic still had residual effects 17 years after their accidents

. The most common problems were chronic neck pain, radiating pain and headaches, all of which have been proven to be successfully treated with chiropractic care. 




Furthermore, studies prove that death from cancer is considerably elevated in those with chronic pain.  People with chronic back pain loose brain tissue at a rate of 5-11% per year (normal is 0.5%).  The magnitude of brain gray matter atrophy is equivalent to 10-20 years of aging per year  The authors of the study conclude that "Some of this brain degeneration may be reversible with proper therapy."  Many studies have shown the superiority of chiropractic, rehab and nutrition protocols for handling these type of cases.




The disc, spinal cord, bones, muscles and most ligaments are common areas of injury in whiplash cases and are easily diagnosed because they show up on X-ray or MRI.  But the leading culprit in the problems that occur after whiplash injury can't be seen on X-ray or MRI.  It is the facet joints between the vertebra. Damage to it can only be measured by neurological testing. During a whiplash accident the spine first straightens out and then goes into an irregular S-curve which causes shearing and tearing of the facet joints.  These joints are important because they feed information to the brain.  After injury, these joints become inflamed, lay down scar tissue and become infiltrated with fibers that cause pain signals to be sent to the brain.  If left untreated, the damaged facet joints will continue sending improper signals to the brain. This will lead to chronic pain and rapid brain degeneration.







What can be done?




1) Schedule a consult from Dr. Phillips immediately.  He is well trained in evaluating and treating spinal injuries. 803-807-9960




2) No matter what structure is injured, there will be bleeding that takes place for up to 3 days.  Stopping the bleed, while not compensating other areas of your body is recommended (ice or heat and compression Dr. Phillips will prescribe the appropriate care for the situation).




3) Allow structures to heal.  Bracing is not common practice today because of the complications it can have latter on (even broken bones are being restricted less by hard cast or any cast at all).  The only time to brace is if there is ligament instability, fracture, or if an injured person is put in a dangerous situation (like an athlete playing 

injured). Even when those patients are braced, muscle stimulation around the area and other neurological exercises are required to prevent problems.  Early mobilization is how we encourage structures to heal.  After the bleed stops, the body begins to repair itself.  With induced motion it repairs faster and more effectively.  Passive 

motion, traction, adjustments and exercise will all be prescribed at the appropriate time.







4) Control Inflammation.  An anti-inflammatory diet that will also regulate pH levels will be administered.  Breathing exercise and stress relief procedures may also be given.  Dr. Phillips will prescribe the exact treatment plan to reduce inflammation and improve healing.  




5) Electrical modalities can be used to stimulate repair, decrease pain and inflammation and increase range of motion.  The type of stimulation will be case dependent. Although electrical modalities are not always appropriate, Dr. Phillips will utilize them appropriately for your case.




6) Continued care may be necessary.  Not everyone requires care after function returns, but others may require treatment to further remodel structures that are not permanently set.  This remodeling phase has been shown to take place up to 2 years after the injury.  Most people are finished much sooner but severe cases may require continued care for years in order to maintain function.  




If you have been in a car accident, chances are you have experienced some degree of whiplash.  Don't take any chances!  Call immediately to schedule your evaluation.  There are no out of pocket expenses to qualified auto accident victims. 803-807-9960

0

/