Shopping Basket
Your Basket is Empty
There was an error with PayPal
Click here to try again
Thank you for your business!
You should receive an order confirmation from Paypal shortly.
Exit Shopping Basket
More and more sufferers of Temporomadibular joint (TMJ) are turning to chiropractic care for help.  Chiropractors can both ease the pain of TMJ by correcting the misalignment between the spine and the nervous system and correct the underlying issues that help prevent the pain from returning. 
Signs may include: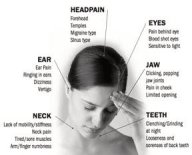 Radiating pain in the face, neck, or shoulders;

Limited movement or locking of the jaw;

Painful clicking or grating when opening or closing the mouth;

A significant change in the way the upper and lower teeth fit together;

Headaches, earaches, dizziness, hearing problems and difficulty swallowing
In a 2003 study published by the Journal of Manipulative and Physiological Therapeutics , 15 participants were administered treatments with the Activator Method, which uses a tool that delivers high-frequency, low-impact adjustments. All participants showed improvements in the distance they could open their jaws and in pain measurements. Although this group was not compared to a group receiving traditional treatment, it shows that chiropractic treatments like the Activator Method show promise as an emerging treatment for temporomandibular joint disorder (TMD).
The Journal of Orofacial Pain published a survey in 2013 of 192 members of a health maintenance organization reporting nearly two-thirds reported using some form of complementary medicine to treat TMJ. Almost everyone surveyed used complementary approaches together with other traditional treatments, and the greatest satisfaction was reported for the hands-on alternative therapies, including chiropractic. 
Often, chiropractic treatment of  TMJ  can represent a viable, low-cost approach with limited adverse effects compared with surgery.  If you are suffering with TMJ come see what we can do for you.  Make an appointment by calling 803-807-9960. 
/